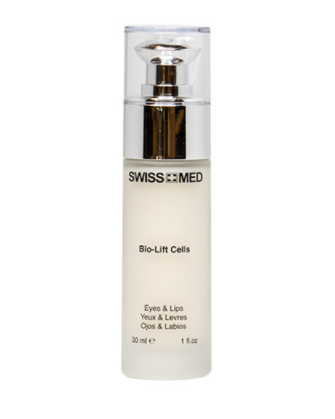 Swiss Med Bio-Lift Eye and Lip
A 24 hour concentrated milky serum designed  for the delicate eye and lip area, featuring anti-aging Gene therapy and Stem Cells to repair aging skin.
Tripeptides activate and slow down the aging process, along with powerful anti-aging anti-oxidants, which stimulates new collagen and protects existing collagen.
Synake - a Tripeptide with Argireline which reduces the depth of wrinkles.
Botanical Tensing Agent forms a smooth film decreases depth of wrinkles
Hyaluronic Acid boosts moisture levels in the skin.
Sweet Almond oil, nourishes and moisturizes the skin.
Directions:   After cleansing, apply  under the eye area and around the upper eye lid,  Next apply to the upper lip area and continue around the corners of the lip and below the lip.  

Size 30 ml, 1 ounce