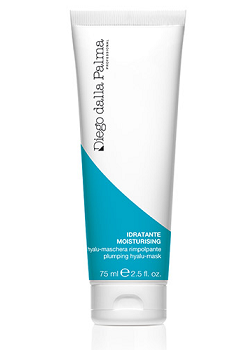 Plumping Hyalu-Mask 75 ml, moisturizing Diego Dalla Palma
An Intensive balancing treatment for dry and dehydrated skin. 
Suitable to treat skin after cold, sun, wind and heat, an oasis for dry and stressed skin.
The serum-texture, intensively repairs the skin, leaving it instantly hydrated, soft, fresh and toned.

ACTIVE INGREDIENTS:

51+3 HYALU COMPLEX™: multi-active bio-revitalising action.

HYALU4PLUMP: 4 different types of hyaluronic acid to hydrate and plump the skin at different depths.

SHEA BUTTER: protective and hydrating.

VITAMIN E: anti-oxidant, protective, hydrating and soothing.

PASSIONFLOWER OIL: elasticising, hydrating and soothing properties.

BABASSU OIL: leaves skin soft and hydrated and reduces and prevents the appearance of wrinkles.
Directions: After cleansing, apply to face and neck, leave on for 10 to 15 minutes.  Rinse well with warm water. 
Size 75 ml