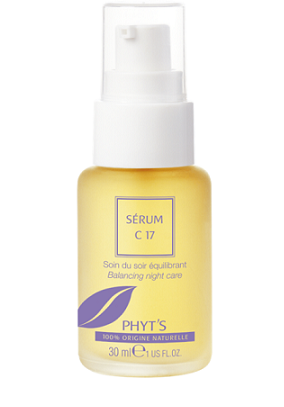 Phyt's C17 Balancing Complex for Acne, Oily, Combination skin
Balancing complex for acne, oily skin, Combination skin
A Night time treatment that purifies and balances the skin. 
Rebalancing, it has an astringent action, purifies, refines and clarifies the skin.
Active Ingredients:
Rosemary Leaf, regenerating, purifying the skin
Lemon Peel Oil, heals acne, anti-bacterial
Lavender, healing helps acne
Directions: Use in the evening after cleansing with Foam Cleanser, and the Eucalyptus toner.  Apply several drops of Naturoderm on blemishes.  Massage serum C17 on face and throat.
Size: 1.4 ounce, 30 ml