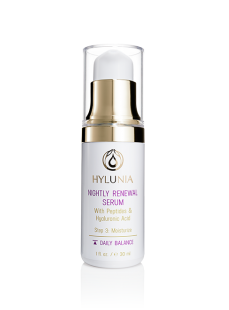 Hylunia Night Renewal Serum, Anti-age and Sensitive Skin Care
A Night-time renewal Serum that contain a high concentration of Antioxidants, Vitamin A and a high concentration of Hyaluronic complex to hydrate and rejenerate your skin, stimulate cell renewal while you sleep. This product can be used for mature skin as well as acne prone skin, since it contains a high amount of Vitamin A and special ingredients to regenerate skin cells.
Main Ingredients:
Alteromonas Macleodii - rare ocean algae, reduces irritation and inflammation, moisturizes and helps prevent wrinkles.
Plant Peptides, anti-aging benefit.
Vitamin A, stimulates cell renewal, Hyaluronic acid a natural moisturizer plumps up skin cells.
Size: 30 ml, 1 ounce.
Our Hylunia Products are for sale in Canada only.