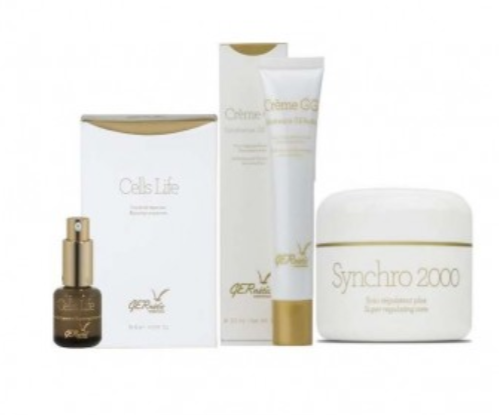 Gernetic Trio includes Cells Life Serum, Illuminating Face Cream, Synchro 2000 Cream
Gernetic Trio include 
 Gernetic Cells Life Serum 15 ml. Anti-aging serum with Hyaluronic, a natural moisture boosting ingredient to help plump up the skin cells. Restoring collagen and elastin, plumping up fine lines and reducing the look of wrinkles Lines and wrinkles appear to fade and lose their depth, the tissue becomes firmer. Acts as a restructuring agent of collagen and elastin tissues and can be used in stretched skin, stretch marks and scars. 
Illuminating Face cream 30 ml. Transforms skin giving it a brighter, uniform appearance.
Synchro 2000 face cream 50 ml. Rebalances skin functions, whatever their type, oily or dry skins. It regenerates the skin cells and maintains the skin healthy. Fights against inflammation and repairs the skin. Suitable for all skin types, especially for those needing regeneration, dehydration, aging, dull skin, skin blemishes and scars.