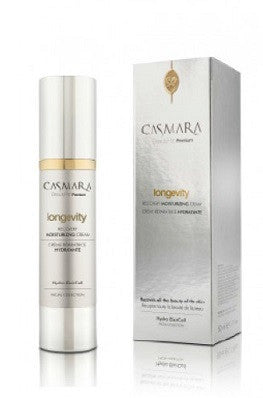 Casmara Recovery Moisturizing Cream
PHYTO ESTROGENS: natural balance for skin during menopause. Rejuvenating, stem cell stimulator.
Light texture and moisturizing self-rejuvenating shock treatment with a pleasant feel to the skin due to the presence of a new and exotic oil coming from Indonesia: the oil of Kendi. It is traditionally used for its sensory properties and dermo-protective ingredients
Results: Diminishes wrinkles and improves the overall appearance of the skin. The skin regains its youthful appearance. Energized, toned and reaffirmed skin. Giving a facelift effect. Ideal for mature skin going through menopause.
INGREDIENTS: EMortal, Kendi oil, Shea Butter
Size: 50 ml, 1.7 ounce