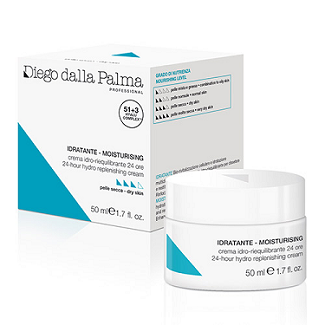 24 hour hydro Replenishing Cream, Diego Dalla Palma Skinlab
Moisturizing cream to replenish and nourish dry dehydrated skin.  Enhanced with Hydra Gene Complex. Your skin becomes hydrated, soft and supple with daily use. 
Active Ingredients:
51 + 3 Hyalu Complex, with Hyaluronic Acid a natural moisture boosting ingredient, boosts moisture levels in the skin.
Omega Ceramide Complex, helps to restore skin lipid levels for more supple skin.
Vitamin E- anti-oxidant, protective, soothing.
Passion Flower Oil, Elasticizing, hydrating and soothing
Babassiu- softens and hydrates while reducing wrinkles.
It helps to soften the look of fine lines and wrinkles. 
Directions: Use daily, apply a small amount of the cream to the face and neck, massage in lightly.  
Size: 50 ml, 1.7 ounce